Earlier tonight, Jen, a friend of mine both in real life and on Twitter, asked me about the Greek inscriptions on this vase: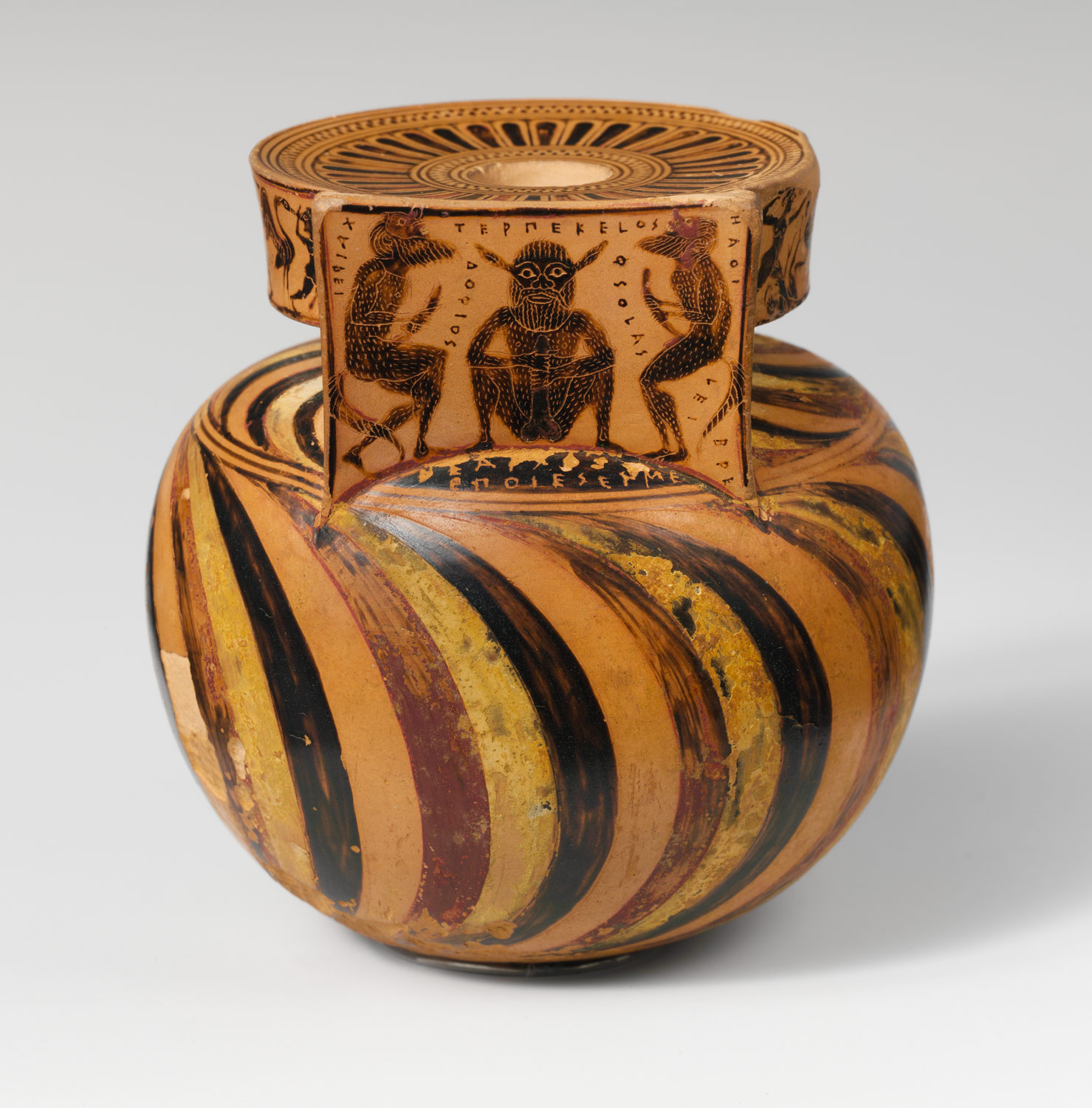 Aryballos, c. 570 BCE, Attic, black-figure, signed by Nearchos as the potter
While it took a few minutes of searching the internet/trolling the LSJ Greek-English Lexicon online (thank you TLG!), I managed to track down the rather hilarious meanings of the inscriptions painted near the three satyrs.
A (perhaps too close) close-up
The words inscribed from left-to-right are, approximately,
ΧΑΙΡΕΙ
(
χαίρει
),
ΔΟΦΙΟΣ
(
Δοφίος
),
ΤΕΡΠΕΚΕΛΟΣ
(
Τερπήκελος
),
ΦΣΟΛΑΣ
(
Ψώλας
), and the inscrutable
ΗΑΟΙ ΛΕΙ ΒΡΕ
(
ηαοι λει βρε
, which will not be discussed here). I feel a little bit better about not understanding the last few words since the Metropolitan Museum's page on this vase says "

Surprisingly, much of the writing, although finely lettered, is nonsense rather than real words."
The three central inscriptions, which frame the middle satyr, are meant to be the satyrs' names, each of which, rather hilariously, incorporates the satyrs' actions.
The left satyr is identified as Dophios (
Δοφίος
)
, derived from the Greek verb
δέφω
, which means "soften by working with the hand," i.e., masturbate. Behind him is written
χαίρει
, the third person present indicative active of
χαίρω
, a standard verb often used in greetings, but in this particularly context takes on a more specific meaning: "he is enjoying [it/himself]".
Satyr in the middle has Terpekelos (
Τερπήκελος
)
above his head, which is a really awesome compound phrase. The first half is from the verb
τέρπω
, which in the middle and passive voices has the meaning "enjoy oneself" or "delight in". The second half derives from the noun
κῆλον
, meaning "shaft" (usually an arrow, though here, clearly something a bit more suggestive). Terpekelos, therefore, is essentially "delighting in one's own virile member".
The right-side satyr is Psolas (
Ψώλας
). This name clearly derives from the Greek
ψωλός
, "with the prepuce (i.e. foreskin) drawn back".
So, in sum, the names of the rather masturbatory satyrs depicted on this vase augment their visual/comedic effect! Hope you've all enjoyed this little interlude!
_________________________________________________________________________________
Metropolitan Museum's page on this vase in the Heilbrunn Timeline of Art History.